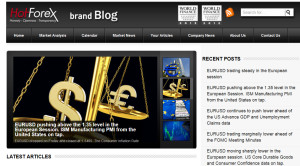 We are constantly scanning the internet looking for great blogs, websites and social media content through which we can all extend our knowledge and trading ability.
Recently we have been reading and following HotForex.com. If popularity can be measured by social media ratings then this blog must be right up there with the best. When we last checked the blog had 1,668 Facebook likes and 52,000 Twitter followers making it no less than "mega".
HotForex is actually a Cyprus based broker dealing in several trading instruments including forex. We have not rated them as a broker, but may do so in the future, but we are definitely impressed by their forex blog. They refer to it as a "brand blog" indicating that it is associated with the brokerage rather than being independent. This, to me at least, is not a problem because they do come clean immediately.
The blog is well structured and has a good clean layout. The main section simply carries their latest posts while the sidebar lists further posts and live trading prices in addition to advertisements for their own products that are not too intrusive.
Articles tend to be short and to the point market analysis pieces with commentaries and indications of main support and resistance levels. Generally there are a couple of static screen shots of charts, most often the EURUSD and GBPUSD. These articles are available in an archive but tend to be most useful when read in real time.
The blog also features a very useful, searchable trading news calendar with excellent filters being made available.
The market news comes from some unspecified automatic feed and tends to be headline only with no comment or interpretation of potential use to traders. Still, this does give a useful background and free newsfeed for anyone to use.
Another feature is a "Your Articles" section which seems to invite readers to have their own work featured on the blog. Unfortunately, this appears not to have a great deal of use. There are articles and they are fine articles but they are without exception from HotForex themselves. The latest one, at the time of writing, was dated 31 July 2013.
A further news section is dedicated to "Company News". This covers sponsorships, offers etc. and would be most useful to those using HotForex as a broker.
Overall I like the HotForex blog. Its main benefits are the real time market analysis posts, the free newsfeed and the news calendar.
Our rating 7/10